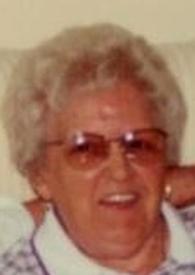 Golda F Whipple, 100, of Brighton passed away at 5:30 am on Sun July 16, 2017 at Robings Manor NH in Brighton. She was born on Sept 20, 1916 in Shawneetown, IL to Harry & Lillie (Greenfield) Fuller.
She married Dennis Whipple on Nov 21, 1936 in Shawneetown and he passed away Feb 22, 1996.
She was a homemaker; owner/operator of the Melody Lane Beauty Salon in Brighton. She and her husband, Dennis enjoyed gardening, camping and fishing. She was a great cook and loved to bake, sew, quilt and embroidery. Their home was a family gathering place for many years where wonderful memories were made. She was a member of the 1st Presbyterian Church in Brighton.
She is survived by daughters, Sharon Sandidge of Alton, Denny Dailey of TX, Joy Whipple of TX, and Melody & Wes Lake of TX and 21 grandchildren, several great grandchildren and numerous great great grandchildren.
She was preceded on death by her husband, parents and daughters, June Mouser, Judy Strohbeck, Genell Mills and Cynthia Whipple, 4 brothers and 3 sisters.
Visitation will be 10-11 am on Fri July 21, 2017 at Targhetta & Wooldridge FH in Brighton
Funeral Services will be at 11 am Fri July 21, 2017 at Targhetta & Wooldridge FH in Brighton with Rev Troy Crain officiating
Burial will be in Brighton Cemetery
Memorial may be made to American Cancer Society