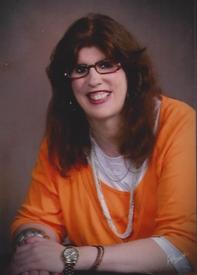 Christina "Tina" Marie Kessler, age 47, of Alton, in the hope of the Resurrection, went home to God on Friday at 5:40 p.m. after struggling with heart disease for many years. At the time of her passing she was surrounded by her family at OSF Saint Anthony's Health Center in Alton. Tina was born at the U.S Army Hospital in Pisa, Italy on March 7, 1970 to Bill and Pat Kessler. Tina was a proud 1989 graduate of Marquette High School. Thereafter Tina took course work at Lewis and Clark Community College for work as a Day Care Staff Member. She worked at St. Francis Day Care until a heart condition forced her into early retirement.
Tina loved being with her large family and was a loving daughter, sister, niece, cousin, goddaughter and the best aunt EVER. Her positive attitude, beautiful smile and sweet, loving and gentle nature brought joy to all she met. Despite health struggles, she gave of herself to anyone in need. Tina loved to celebrate the two Feast Days of her Christian Faith at Christmas and Easter. She loved her Irish roots and celebrated St. Patrick's Day by participating in the St. Louis Parade. Tina had a simple and pure faith and spirit. Tina was a gift from God and a gift to all who knew her.
Tina is survived by her parents, Bill and Pat of Grafton, IL; and her seven brothers and sisters (and their spouses): Fr. Bill Kessler of Brighton, IL; John (Dawn) of Waterloo, IL; Tim (Rachel) of Webster Groves, MO; Jen (Chris) of Mason, OH; Kate of Godfrey, IL; Joe (Annie) of Des Peres, MO and Dan (Rebecca) of Godfrey, IL. She leaves behind many loving nieces and nephews: Collin, Riley, Andrew, Alicia, Ava, Aidan, Adela, Elizabeth, Matthew, Mercedes, Maddie and Maggie. Tina was also grateful for the continuing friendship with her grade school and high school friend Jesse Mae Chavours.
Tina's Visitation will Thursday, February 15, 2018 at St. Ambrose Catholic Church in Godfrey from 9:30 a.m. – 10:45 a.m. followed by Mass at 11:00 a.m. The Mass will be celebrated by Tina's brother, Fr. Bill, and assisted by her Dad, Deacon Bill, and Fr. Steven Janoski.
Burial will follow at St. Patrick Cemetery in Godfrey.
Given that it is the Lenten season, in lieu of flowers please consider a donation to St. Ambrose Parish, Marquette Catholic High School for a Scholarship in Tina's name, St. Francis Day Care Center or the Ursuline Sisters of Alton
Staten-Fine Funeral Home in Alton is in charge of arrangements.
An on-line tribute and guest book may be found at www.staten-fine.com